Loose Helium Balloons | Balloon Bouquets | Air Filled Gift & Table Arrangements | Colour Chart | Giant Numbers | Gender Reveal/Baby | 260Qs | Foil & Bubble Balloons | Big Balloons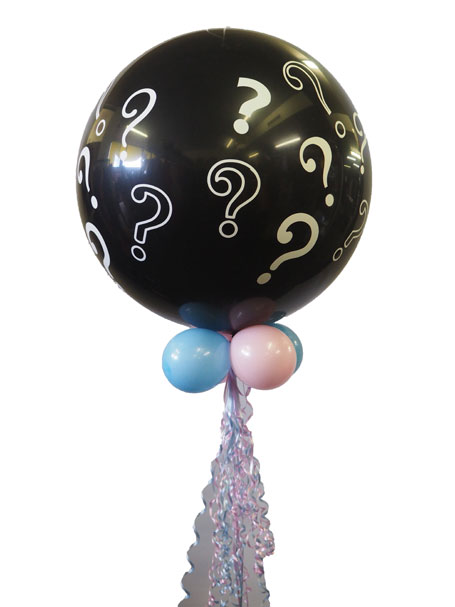 SORRY CURRENTLY UNAVAILABLE – HOPEFULLY BACK SOON. Due to helium shortages and a huge increase in the price of helium we are currently not inflating these large balloons.
Make your big announcement with one of our Gender reveal balloons. Pop this giant helium filled question mark balloon and be showered in pink or blue confetti.
This giant balloon comes filled with helium and the appropriate coloured confetti and is trimmed with gender neutral balloons and ribbons.
Collection is from our Carlingford, Sydney store.
Prices include helium, confetti, balloon collar, ribbon trim and weight unlike many advertised elsewhere.
65cm diameter $52.oo NA
Deflated balloon only $14 Please phone to check availability.
If you are wondering 65cm is a very large balloon any bigger and you will struggle to get it in your car door. We sometimes have a 65cm balloon on display in our store if you would like to see just how big it is.
We can keep a secret 🙂 so if you would like everyone to find out at the same time, we can help. Just get the doctor to pop a note in an envelope telling us the sex and drop the note into us before hand.
Please give us at least one days notice for these gender reveal balloons as they do take a bit of time to make.
Take a look through the gallery below for other Baby Balloon ideas
 Loose Helium Balloons | Balloon Bouquets | Air Filled Gift & Table Arrangements | Colour Chart | Giant Numbers | Gender Reveal/Baby | 260Qs | Foil & Bubble Balloons | Big Balloons