Business Hours – Tuesday 10am – 6pm, Wednesday 10am – 2pm, Thursday 10am – 8pm, Friday 10am – 6pm, Saturday 9am – 2pm.
Closed Sundays, Mondays, public holidays and Easter Saturday.
Contact us
Suite 1 1st floor
5 – 7 Mobbs Lane
CARLINGFORD NSW 2118
Our store is on the first floor so if you have trouble with stairs please contact us so as we may assist you in any way possible. We are happy to bring the costumes that you would like to view downstairs.
Don't forget to take a look through our costume catalogue or balloon photo galleries if you are looking for inspiration.
To speed things up if you are contacting us about costumes via the message form below, please include the date you need it for and what size you need so as we can check availability.
If you would like an instant answer or your question is a bit more complicated, it is probably best to give us an old fashioned phone call during our business hours rather than emailing us.
Your enquiry is important to us but depending on your company's security settings your email provider may not allow our reply to get through to you so if you haven't heard back from us please give us a call.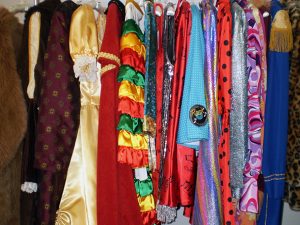 Check out the following links for many of our most popular enquiries
Balloons | Plus Size Costumes | Kids Costumes | Theme Suggestions | Costume List | Helium | Search Alphabetically | Wigs | Masks | Costume Accessories