What do you wear for a Rhyme without Reason costume party?
Partner up with a mate or get a group of you together. Pick a costume and find other costumes that rhyme but match in no other way at all. Here are a few ideas to get you started.
Mermaid – First Aid
Edna Everage – Beverage (tequila or beer bottle)
Fruit – Cute
Gigolo – Eskimo – Retro – Munroe – Po – Hoe – Psycho – Pharaoh – Rambo – Widow – Waldo – Scarecrow
Dorothy – Authority
Grease – Police
Solo – Hero – Taco
Hobbit (Frodo) – Lorena Bobbitt (a knife & and some 90's fashion)
Pope – Afloat (Captain or Sailor)
President (Trump mask or wig and jail overalls)- Accident (plenty of blood)
Bob (the builder) – Mob (Gangster) – Slob
Bogan (Mullet & flanny) – Paul Hogan (Crocodile Dundee)
Beer – Cheer
Regal – Illegal
Town Crier – Liar (Pinocchio)
Religious (Pope, Nun or Priest) – Litigious (Judge)
Magic (Wizard) – Tragic (80's OTT fashion) – Pelagic ( Shark)
Caesar – Greaser
Fred (Flintstone) – Dead (Grim Reaper) – Red (anything red or Red riding Hood)
Lobster – Mobster
Fairy – Dairy – Mary – Hairy
Teacher – Preacher
Rich – Witch
Undead (Zombie) – Red head
Nun – Fun (Clown)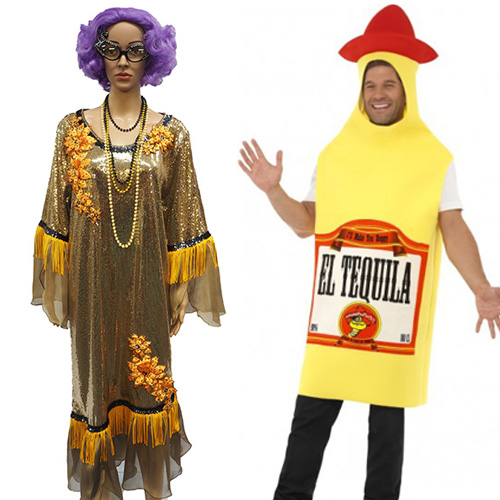 We hope we are not spoiling the fun by giving you a whole load of Rhyme without Reason costume ideas for this increasingly popular theme.
Get as creative as you like, as you can see you don't have to strictly stick with a characters name.