Take to the sky as Top Gun, Amelia Earhart, Biggles an Air Hostess, an Aviator or a Pilot. If you are looking for modern or old fashioned pilot costumes take a look through our selection.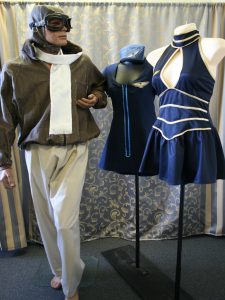 Air Hostess/Flight Attendant
Price: $45 hire plus $50 refundable bond.
Size: Assorted styles and sizes available.
Aviator/Old fashioned Pilot/Amelia Earhart/Biggles
Price: $55 hire plus $50 refundable bond.
Size: One size M – XXL.
Character Suggestions: Biggles, Amelia Earhart, Wright Bros.
Generally the hire period covered by the prices shown is over the weekend or 2-3 days during the week.
Prefer to buy your hosty or pilot gear?
We have a selection of costumes and accessories available. Our prices are just as good as on line and you can try things on.