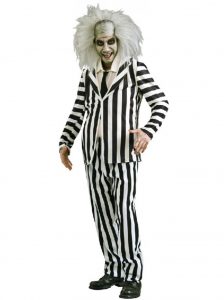 This official licensed Beetlejuice costume is available to purchase in store. Please feel free to contact us to check sizing and availability.
Package includes jacket, pants and shirt front. Wig and makeup available to purchase separately.
Available in standard size only.
Some suitable themes include – Halloween, Movies, 1980's & Black & white.
Our prices are just as good as buying online and you get to try your costumes on. We have compared the quality and prices of the various Beetlejuice costumes that are readily available and in our opinion this one is the better option.