Parties where you dress as something that starts with the first letter of the birthday boy or girl's name are always popular. This is the place to start if you need ideas for costumes starting with N.
Natives – click for info.
Nativity – click for info.
Nautical – Admirals, Mermaids, King Neptune, Pirates, Popeye & Sailors will all work for a Nautical theme party.
Nefertiti – Add a Nefertiti Headdress to one of our Egyptian costumes.
Neptune King & Queen – click for info.
Ninja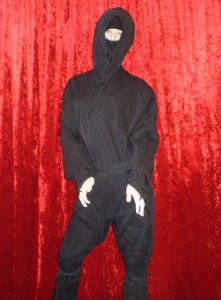 Ninja – hire
This is a proper heavy weight Ninja Uniform which includes a double layer hood, wrap top, wrap pants and fingerless gloves.
Size: Assorted adult sizes available.
Price: $60 hire plus $50 refundable bond.
Ninja – buy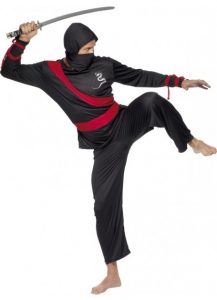 Includes lightweight t shirt style jersey top, pants and hood.
Sword not included. Style may vary depending on availability from our suppliers.
Assorted sizes available.
Please feel free to contact us to check pricing and availability.
Nuns – click for info.
Nurses – click for info.