It is certainly not one of the easier letters for an alphabet party but we have come up with quite a few ideas for costumes starting with U.
Ugly Sister – You can really go to town with this one. Cinderella's Ugly sisters are traditionally often played by men in stage shows, we can come up with quite a few combinations of long hooped dresses, wigs and mismatched sashes, flowers and feather hair clips. It is well worth a visit to our store so we can put the perfect outfit together for you. Prices will vary depending on what you select but as a guide if you want a wig, hooped dress and a few mismatched accessories you are looking at approximately $75 hire plus $70 refundable bond.
Uma Thurman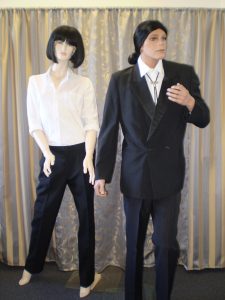 Uma Thurman & John Travolta from Pulp Fiction
Many people simply hire or buy wigs for both of these characters or if you need the full outfit we hire suits, shirts & string ties.
Prices: single wig only $15 hire plus $50 refundable bond. Travolta suit including wig $60 hire plus $60 refundable bond.
We also have a selection of wigs available to purchase.
Uncle Fester – Includes black gown, fur collar and purchased bald head if you can't supply your own. Picture coming soon.
Uncle Sam
Includes hat, tailed jacket, waistcoat, bowtie and pants.
Size: Jackets available in assorted sizes. Elastic waist pants.
Price: $50 hire plus $50 refundable bond.
Suitable Themes: America, Uniform dress up, July 4th, International, Around the World, Costumes starting with U & Independence day.
Partner with the Statue of Liberty.
Undead – click for info.
Underbelly – click for info.
Undertaker – Try our top hats and tails for this one.
Underwater – King Neptune, Mermaids, Message in a bottle (beer or tequila) or a Shark.
Unicorn
Uniforms
Ursula