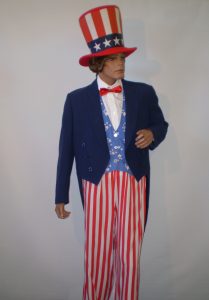 Our Uncle Sam costume includes a hat, tailed jacket, waistcoat, bowtie and pants. Selection may vary slightly from photograph depending on availability.
Size: Jackets available in assorted sizes. Elastic waist pants.
Price: $65 hire plus $60 refundable bond. Generally the hire period covered by this price is over the weekend or 2-3 days during the week.
Suitable Themes: America, Uniform dress up, July 4th, International, Around the World, Costumes starting with U & Independence day.
Partner with the Statue of Liberty.