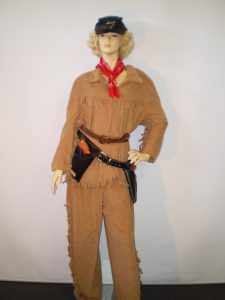 Our Calamity Jane costume is inspired by the one worn by Doris Day in the 1953 movie.
Includes cap, fringed suede top and pants, gun belt and scarf.
Size: Medium to large loose top with elastic waist pants.
Price: $65 hire plus $60 refundable bond per costume. Generally the hire period covered by this price is over the weekend or 2-3 days during the week.
You may also like to have a look at our cowboy and cowgirl costumes for alternative clothing.