Inspired by the American sitcom our Jeannie costume includes a hat with veil, bra top, vest, belt and pants.
Size: One size fits from 10—16.
Price: $50 hire plus $50 refundable bond. Generally the hire period covered by this price is over the weekend or 2-3 days during the week.
Great for many themes including Arabian, TV Characters, 1960's, 1970's, Magical, Costumes starting with J, Costumes starting with G & Cartoons.
Prefer to purchase a Jeannie costume?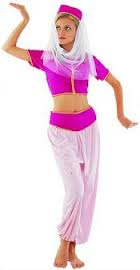 If you prefer to buy your costumes this economy version of a Harem girl would work well for Jeannie.
Available in one size only to fit a small to medium, it can be tried on in our store.