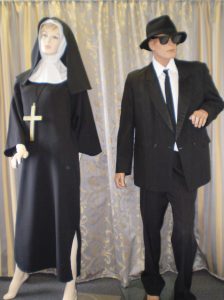 Our Blues bothers costumes include hat, dark sunnies, shirt if you need one, tie, jacket & pants.
Suits available in assorted sizes. Please note they are not perfectly matched formal suits and depending on what sizes you need they may be slightly different styles.
Price: $55 hire plus $50 refundable bond. Generally the hire period covered by this price is over the weekend or 2-3 days during the week.
Multiple suits available so you can dress as this famous duo with a friend. If you have your own suit we sell hats, dark glasses and black ties.
If you are looking for an additional character for your group a nun is a great choice for a third person.